This is Maggie – a five-year-old dog who survived miraculously after being shot 17 times and abandoned on the streets in warzone. Thankfully, she was saved and found a new lease of life working as a therapy dog. And now, she even becomes an Instagram star with a large of followers.
Maggie was found tied to a box on her own in Lebanon with 17 bullet wounds all over her body, her eyes shot out and her ear cut off, suffering with a broken jaw. She was rescued from horrific conditions by an animal charity called Wild At Heart Foundation. Even though it's quite hard to get pets out of Lebanon, they tried to take her in and helped her find a good home.
After her story has gone viral, she was soon adopted by a family in Brighton, UK. Her new owner Kasey Carlin, an animal lover who brought her home and now she works as a therapy dog, using her love and smiling face to inspire others. Not bad, given what she has been through.
Of course, not just any dog can be a therapy dog, and Maggie had to take exams to be certified. She eventually passed the exam and she is now a registered therapy dog with Underdog Dog & Child Charity.
The owner Kasey was proud of her, so she shared the good news on Instagram: "Yesterday me and Maggie went to meet with her assessor, @maherandhounddogtraining she flaunted her stuff and gave it her best go and she PASSED."
Despite her health problems, Maggie is still just like a normal dog with an 'infectious spirit'. As a therapy dog, she often visits hospitals, care homes, and universities on a mission to spread a positive message.
"I know what happened to Maggie was horrendous but if her story can educate and inspire others to do good then at least we can do our part to make this world a little brighter," Carlin said.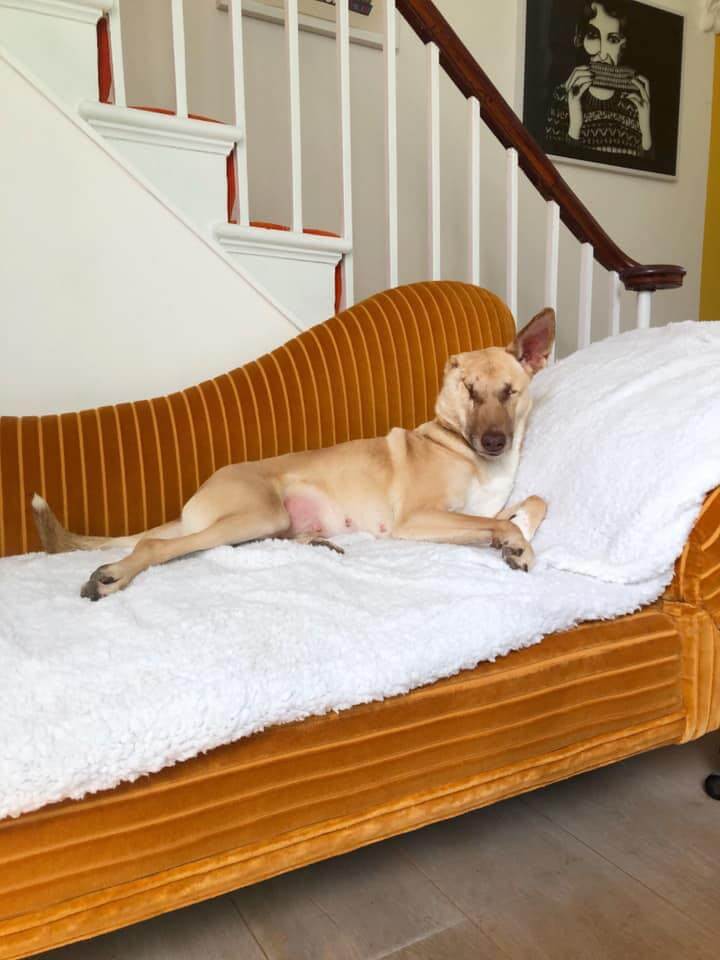 "She must have been in agony with all she's been through, but she never hurt anyone and she's so loving. After everything she had been through, she deserves to have a happy life. We hope that Maggie's story will serve as an inspiration for all animal lovers across the world.
If you love Maggie, you can follow her Instagram to see more her pictures and stories. Please share this story with your friends and family!