A family from Ponce De Leon, Florida, experienced their worst nightmare when their three-year-old boy, Marshal Butler, went missing. The boy wandered off from his family's home on Wednesday while playing outside with his siblings.
"We were panicked," Kayla Stewart, Butler's aunt, told local NBC affiliate WJHG. "All sorts of worst case scenarios are running through their heads."
The family, along with their neighbors, as well as local and country police officers quickly split up and searched the area. Marshal was last seen wearing only a diaper, and the search was more difficult by the fact that he is autistic and can't speak or communicate.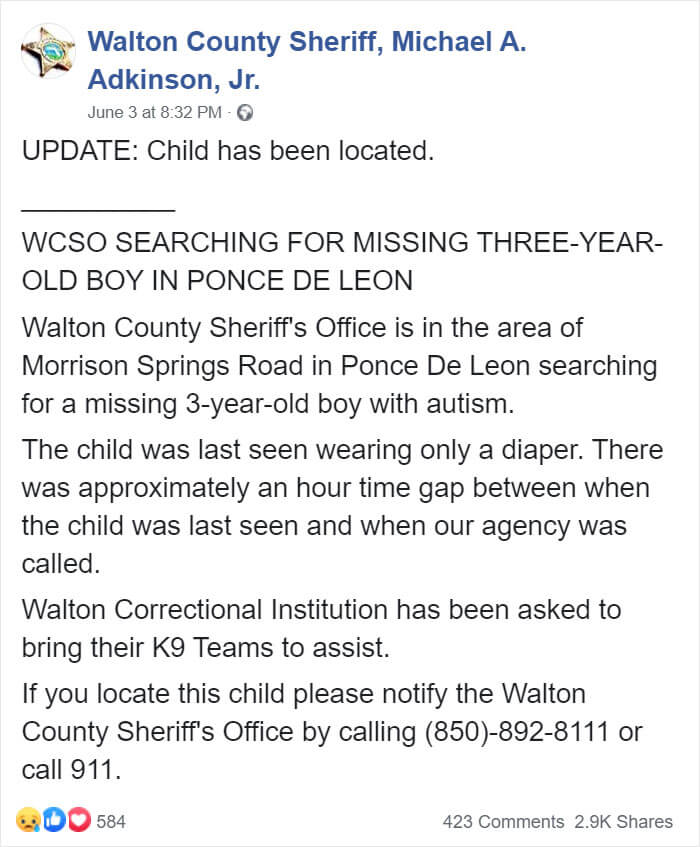 After several hours of searching, neighbor Carol Shelton found the boy about a mile away from his home without physical injuries. Marshal was safe and flanked by two loyal family dogs, Nala and Buckwheat. It was clear that the dogs were by his side, protected and cared for him until someone found them and helped them.
"Both of his dogs were right there with him," the neighbor recalled and told the TV station. "[We're] thankful that the pups kind of guided him along, I guess they kept him safe."
"Marshal was in good spirits when found. A little dirty from the walk through the woods, but unharmed and happy," Corey Dobridnia, the Public Information Officer at the Walton County Sheriff's Office, told Bored Panda. "Dogs are loyal creatures. I feel like they probably knew to stay with him when they saw he was alone. Their instincts kicked in. They stayed with the boy and watched over him until he was located."
Marshal's family was overjoyed to see their precious little boy back home safe and healthy. They were also immensely proud of their beloved dogs. "They're doing their job," the boy's mom said.
After all, dogs are great companions and we don't deserve them. If you love this story, please share it with your friends and family members!