If you have a dog who likes to bark a lot, you know how annoying it can be. What are they trying to tell you? Why won't they just be quiet? Well, now you can make what can be an obnoxious situation into a hilarious one with the Cuss Collar, a dog collar that blurts out swear words every time your pup barks. I've never wanted anything for my dog more!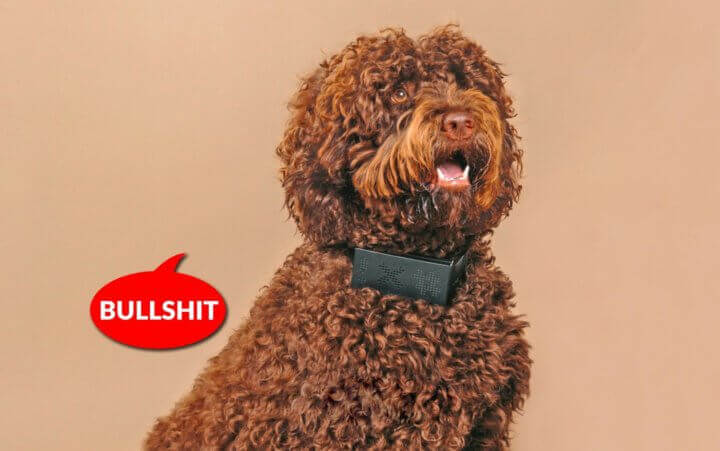 1. DON'T WORRY, IT DOESN'T HARM THE DOG.
The Cuss Collar isn't a shock collar and doesn't deliver any sensations to the dog at all. Instead, it's basically just a collar with a mini speaker that's activated when your dog barks, at which time it spits out a random curse word. It's NOT intended to be an anti-barking device either, so don't buy it thinking that's what this is.
2. THERE ARE A VARIETY OF SWEAR WORDS TO DELIGHT YOUR EARS.
When your dog barks, you might hear anything from bullsh*t to f**k and more. You never know which one you're going to get, which keeps things fun, right?
3. SPONSORED: THE BEST DATING/RELATIONSHIPS ADVICE ON THE WEB.
Check out Relationship Hero a site where highly trained relationship coaches get you, get your situation, and help you accomplish what you want. They help you through complicated and difficult love situations like deciphering mixed signals, getting over a breakup, or anything else you're worried about. You immediately connect with an awesome coach on text or over the phone in minutes. Just click here…
4. YES, IT'S BASICALLY A $60 GAG GIFT.
But it's a hilarious one, don't you think? Your dog barks incessantly but now he also curses in human language? What's not to love. Whether you have a dog yourself want to to use the Cuss Collar on your pet or you want to give it as a gift for someone with a yappy little furball, it's a pretty awesome product.
5. IT'S SO POPULAR, IT'S CURRENTLY SOLD OUT.
The Cuss Collar is currently out of stock on the website, but you can sign up for updates on the website and they'll let you know when it's back in stock. Hopefully that will happen sooner than later because frankly, I'd like to order one myself. Fingers crossed!